A white noise machine or sound machine can be an effective way to mask disruptive noise and get a good night's sleep. White noise – or other natural sounds like an ocean, crickets or even a babbling brook – help drown out noises that might wake people up during the night. Say goodbye to annoying car horns, neighbors who play terrible music at 2 am or that dripping faucet that's not getting fixed till tomorrow.
As simple as the concept of a white noise machine is, there are many different ones to choose from. Some offer a range of sounds, and others have only one type. Still, others can be controlled via an app, while some need only the twist of the hand to turn them on.
This article will go over the best five white noise sound machines available on the market and describe who each are a great fit for.
The Best White Noise Machines
Best Non-Looping White Noise Machine – LectroFan
Who Is It For?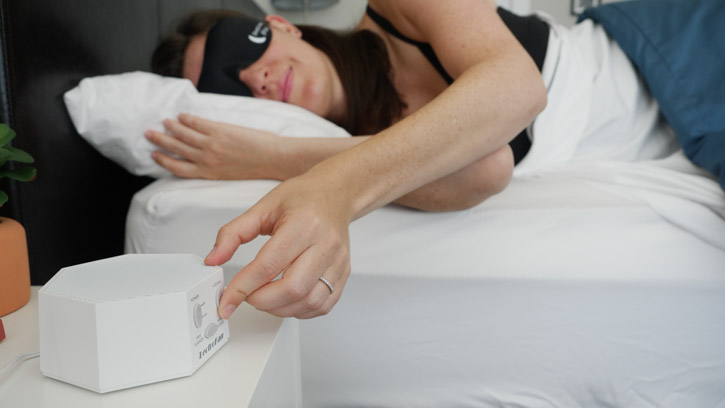 The LectroFan white noise machine is great for white noise lovers because it offers 10 variations of white, pink and brown noises, plus 10 fan sounds.
The sound quality is truly excellent and there is no looping in the sounds, meaning there is no small snippet of white noise that gets played on repeat.
It's simple to use and looks nice on a nightstand and there's no bothersome LED light that can seem too bright in the dark. People can charge it via a wall outlet or USB and it's absolutely worth the price.
Details:
The dimensions are 4.4″ x 4.4″ x 2.2″ and 1.2 lb.
Includes 10 pure variations of white, pink and brown noises, plus 10 fan sounds
All sounds digitally synthesized and non-looping
Volume control – goes up 1db or down 1db up to 10 times
Can be charged via USB or AC adapter
Sleep timer that shuts off at 60 minutes, 120 minutes, or 180 minutes
Comes in black or white
Available at several retailers
Beset for Kids – Hatch Baby Rest
Who Is It For?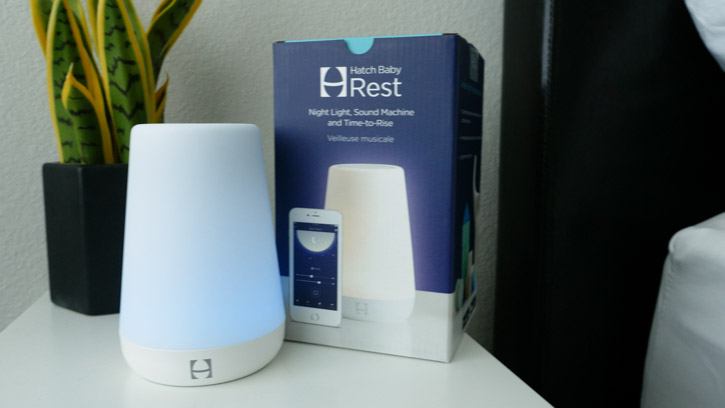 The Hatch Baby Rest is an awesome white noise machine that offers parents (and kids) so many other cool features. First and foremost, consumers get 11 built-in sounds, ranging from pink noise to nursery tunes. The sounds are true recordings as opposed to computer-generated sounds, which is especially nice.
The machine is also a night light and the Rest comes with a "Time-To-Rise" feature that is essentially a gentle alarm clock for kids. The night light color, sound, and volume can all be controlled via a remote app on a parent's smartphone or by touching the Hatch Baby Rest machine itself.
Details:
Sound machine with 11 naturally recorded noise options including a range of pink and white noise
Easy to use via buttons on the machine or an app synced to a smartphone
Night light and Time-To-Rise features help parents use the sound and light to wake kids up in the morning
Easy to program
Available at a variety of retailers
Plugs into any standard outlet
Best Travel-Friendly White Noise Machine – Marpac Hushh
Who Is It For?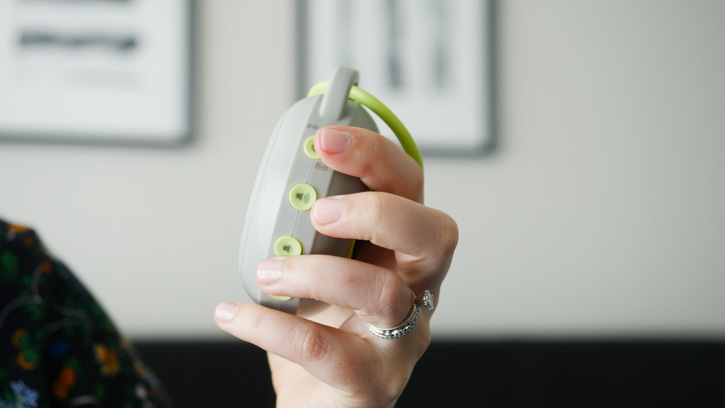 Marpac actually makes two travel white noise machines, the Rohm (for adults) and the Hushh for children. The Hushh is a great white noise machine that will work well for both adults and the little guys.
Not only is it lightweight and compact but the best feature is probably the fact that people can operate the entire thing with one hand. Parents juggling an infant, toddler or a boatload of luggage will love this feature.
It comes with three soothing sound options: bright white noise, deep white noise, or gentle surf. It's affordable, and it easily clips to a baby's car seat or luggage.
Details:
Features a child lock
3 soothing sound options: bright white noise, deep white noise, and gentle surf
All buttons can be accessed with one hand for easy handling
Has an amber night light that won't disrupt sleep like blue light
Super easy for on-the-go individuals or families. Includes a clip that's easy to attach to luggage or car seats
Charges via USB (no batteries to worry about)
Best with Multiple Sound Options – HoMedics SoundSpa
Who Is It For?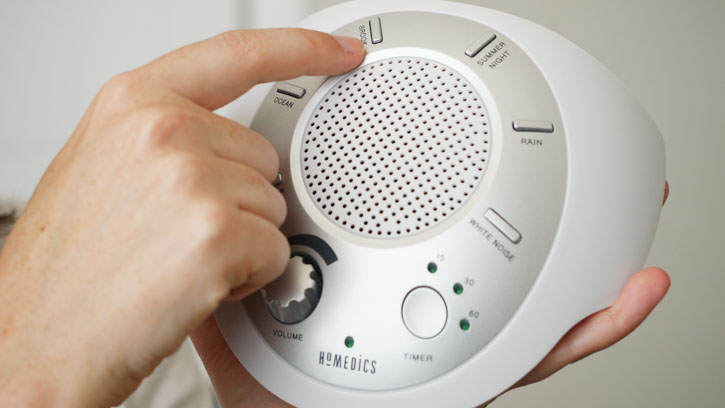 The HoMedics SoundSpa is excellent because it's one of the most affordable white noise machines available, and it's super versatile. It is an especially good option for people who are giving white noise machines a try for the first time, because it comes with six different sound options, including white noise. People can test out the different sounds and adjust the volume easily with a twist of the knob.
One of the best features it has going for it is that it's super portable and is battery powered, and it's also lightweight and easy to find online or in stores. The best part of all is probably its affordability!
Details:
The dimensions are 6.5″ x 6″ x 2″ and it weighs 8 oz
The sound machine comes with six sounds: White Noise, Thunder, Ocean, Rain, Summer Night, and Brook
An auto-timer lets you choose how long you listen – 15, 30, 60 minutes or don't set a time and it will play continuously
The volume control adjusts the volume of the sounds – we tested it at just over 85 dB max
The machine is compact and lightweight for travel
It can be plugged into a wall outlet with its adapter (included) or powered by 4 'AA' batteries (not included)
You can purchase it online or in-store at a variety of retailers for around $20; return policies may vary
Best Fan-Based White Noise Machine – Marpac Dohm
Who Is It For?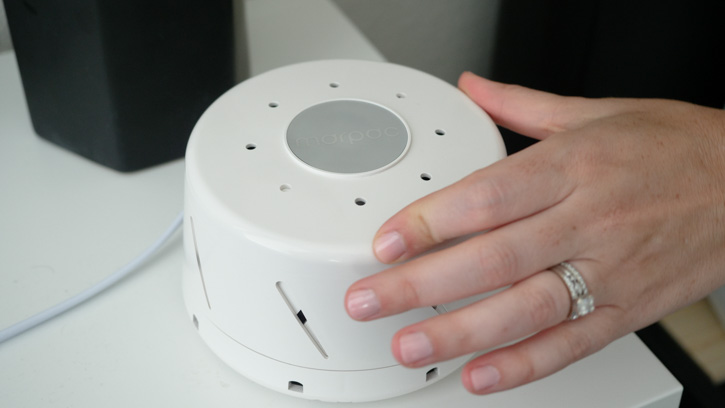 The Marpac Dohm is a great natural alternative to computer-generated white noise because it's fan-based. That's right, there's a small fan inside the machine that creates the relaxing sound a bedroom fan would make.
To adjust the volume or the tone of the fan, all people have to do is twist the machine. The only buttons on the side give consumers two different speed options, otherwise, everything is very manual. People who fell asleep with a bedroom fan on in the summers of their childhood will most certainly find the Marpac Dohm enjoyable! It's also very affordably priced.
Details:
Fan-based white noise (natural sound)
Customized non-looping sound
Two different speed options for adjustable tone and volume
Twist to adjust
Powered by an 8-inch 120V AC plug
Five color options available
A Note About Volume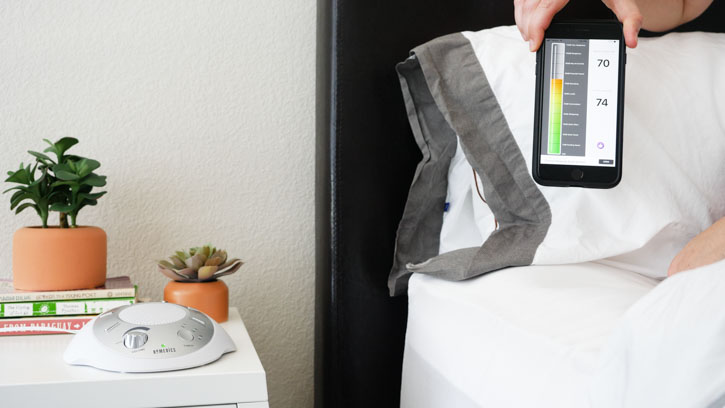 White noise machines and sound machines can be a blessing when it comes to masking other sounds, but it's important to use the machine at an appropriate volume. That's because blasting white noise too close to the ears overnight may result in hearing damage.
The World Health Organization recommends that anyone planning to use a sound machine for more than 8 hours should do so at a volume of fewer than 85 decibels. Louder than that and people may be putting their hearing at risk. Parents who put a sound machine in their children's rooms should speak with a pediatrician about an appropriate volume level.
White, Pink & Brown Noises Explained
Some of the white noise machines on the list offer more than just white noise – people will see settings for pink or brown noise as well. White noise has equal power across all frequencies audible to the human ear. Pink noise is white noise, but with reduced higher frequencies and is considered to be more soothing than white noise. Brown noise lowers the higher frequencies even more. It's a bit "rougher" than pink noise and resembles the roar of a river or a strong wind.
Alternative Options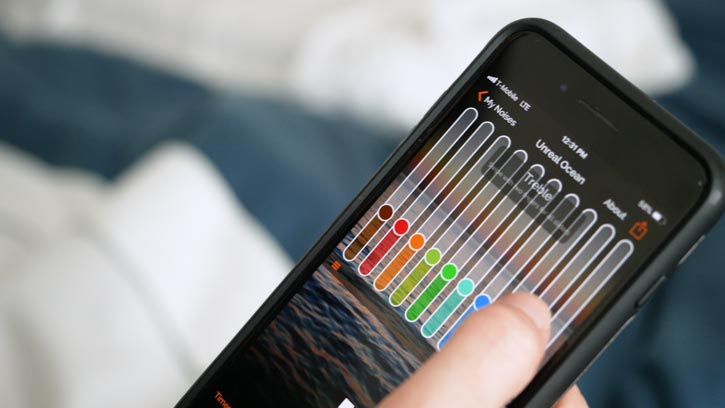 If people like the idea of white noise but they don't want to purchase a machine, there are a couple of other options available to them. First, those who already own a streaming device like Amazon Echo or Google Home can add a new skill and play white noise through those devices.
If people have a smartphone, there are many free apps (both for Android phones or iPhones) that will play a variety of white noise and other sounds straight from their phone. Simply search in the app store and watch out for any in-app purchases. While this idea is simple and effective, having a smartphone so close to the bed can provide its own interruptions at night (stop scrolling!).
Final Thoughts
As people can tell, they each have something different to offer and may suit different needs. Adults who love white noise will be happy with the sound quality on the LectroFan, while parents might want to consider the Hatch Baby Rest or Marpac Hushh to help their kiddos sleep well.